Denmark Distilling
Your One-Stop Shop for Wine, Mead, Kombucha Tea & Spirits, too!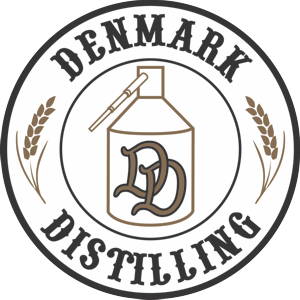 With our creativity in wine and brewing beer since the 1990's, distilling was the last piece of the puzzle. We decided to start distilling in May of 2018. We started out with a few spirits: Sugar Moonshine, Triple-distilled Vodka and Skipper Jim's Rum. We currently have three stills: a reflux column still for distilling our vodka and gin and two traditional pot stills. The pots stills are just like you would find in the old days when moonshiners made shine back in the woods.
There is a rich history of moonshine in the Denmark area since County Road R used to be old highway 141. There are stories of Al Capone running moonshine during prohibition through this area and staying at the Maribel Hotel since there were a lot of caves that he could use as a hide out.
The last trip with my Dad before he passed, we went to Minocqua, WI. My Dad showed me a brochure of Northern Waters Distillery. We went to check it out, and met Peter Nomm, the owner. This is where the start of our Bourbon Barrel Cabby Wood Duck and Chardy Wood Duck started. I talked with him about the distilling process and using bourbon barrels for our wines. I had a lot of questions, so I talked with Peter and did a lot of research on distilling.
With my love for bourbon, I talked with a local brewery in Green Bay, Noble Roots Brewing, to help me with some trial runs of mash for our bourbon. Alex and Marv were a great help with getting those trial batches run.
I later talked with Sam and Andrew at Badger State Brewing to see if I could purchase their one-barrel pilot brew system. We purchased that in 2019 to start running our batches of corn for our bourbon.
Watch the videos below to see our distilling process.
Hours
Thurs - Fri: Noon - 6 pm
Sat: Noon - 5 pm
Sun: Noon - 4 pm